Acupuncture originated in China, probably more than 4,000 years ago. It involves inserting fine needles into various points in the body to stimulate nerve impulses. Traditional Chinese acupuncture is based on the idea of 'qi' (vital energy) which is said to travel around the body along 'meridians' which the acupuncture points stimulate. Western acupuncture uses the same needling technique but is based on stimulating nerve impulses and the central nervous system. Acupuncture may be used in the West as an anaesthetic agent and also as an analgesic.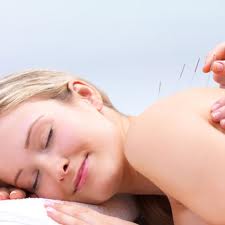 Sterile disposable needles are used at recognised acupuncture points and are agitated, stimulated electrically or with heat (moxibustion).
For patients considering acupuncture, a careful history and examination is important. Therefore a first appointment is usually longer than subsequent ones. Usually 6 to 10 sessions of acupuncture are needed to treat most problems (1-2 sessions weekly) with additional maintenance sessions less frequently if necessary.
Acupuncture can be used for many problems but the commonest indications include:
Musculoskeletal injury – acute and chronic pain
Neck and back pain – relief and improved functionality in acute and chronic back pain. Acupuncture is now recommended by the National Institute for Health and Clinical Excellence (NICE).
Postoperative nausea and vomiting – significant benefit
Migraine – acupuncture is at least as effective as and probably more effective than preventative drug treatment, and has fewer adverse effects.
In vitro fertilisation (IVF) treatment – increases the live birth rate with IVF treatment when performed around the time of embryo transfer.
Nausea and vomiting during chemotherapy – is useful in conjunction with anti emetic agents.
Headache – frequent episodic or chronic tension-type headaches.
Tobacco addiction – effective in helping people quit smoking.
Dr. Lynch trained with the British Medical Acupuncture Society in Oxford and has used acupuncture for many years in his practice.
Tax relief is available from Revenue on medical acupuncture and all pain interventions.
If you would like to discuss acupuncture or any therapeutic intervention for pain management such as joint injection or customised pharmacotherapy contact our team at Enniscorthy Medical Centre on 053 92 39512 or complete the Contact Form On line for an appointment.
Cost: 1st visit €100; Subsequent visits €75